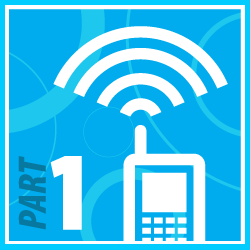 Driven by significant growth in smart phones and tablets, the mobile web is the next big marketing thing! Current predictions indicate that one in two Americans now own a "smart phone" device. Mobile website conversions are the future for content delivery. Great websites are no longer sufficient for the task of business communications and interactions. Every company must establish a current and future strategy for how to make mobile communication one of their primary tactics. The opportunities associated with mobile website marketing cannot be ignored.
While your current website is most likely viewable on a mobile device, it is NOT mobile optimized. Attempting to click a link with your finger-tip on a 3.5 inch screen is quite a challenge. The ultimate goal is to structure your website to be user friendly on each and every mobile device. Ultimately, those users who visit your site via a mobile device need to be converted to leads, which requires convenient navigation and a logical site structure.
Essentially, mobile website conversion requires the development of stripped down versions of a larger website, with different versions for each mobile operating system. Android, iPhone and Blackberry control the market with 41%, 27% and 22% respectively through July, 2011 (Source:  comScore).
As an example, the mobile version of the Intel website is only nine (9) pages, compared to over 80,000 pages for the regular website. The most popular blog software, WordPress, offers built-in widgets for mobile website conversion.
One efficient option for mobile website conversion is through your content management system (CMS). Many popular CMS systems offer mobile Plug-In's. This usually strips out any complicated CSS and large image files. It "stacks" the site so it is viewed primarily vertically. To view a very rough example of this type in your URL at http://www.skweezer.com, and it will render a ultra-simplified mobile version of your website. Any Plug-In available from your CMS would allow for a much cleaner look. Google also offers a mobile site creator, per link below: http://www.google.com/sites/help/intl/en/mobile-landing-pages/mlpb.html Another option for mobile website conversion is to build it from the ground-up. The same information that is relevant and important on your full website may not be relevant to a mobile viewer. Often times large amounts of copy and large image files are distracting and cumbersome. A mobile user will not read a mass amount of text, and they will not wait for a large file to load. Small image file sizes and minimalistic copy is important. Also be sure to make user navigation very simple. Be sure to set up a 'mirror' for your website and direct all mobile traffic to the URL http://mobile.yoursitehere.com. You will see several variations of this often times including m.yoursitehere.com.(i.e. www.fusionb2b.com becomes mobile.fusionb2b.com or m.fusionb2b.com). This gives you a sub-domain to build mobile website under.
Next up: The Fundamentals of a Mobile Website Part Two! Please Retweet, Facebook Like and Social Bookmark this Blog.